My Take on the New Facebook Fan Pages
Facebook has updated their Fan Page design and it appears that much of what was leaked late last year made it to the final design.   The new fan page design aligns their pages with the new profile design they launched a couple months back.  Facebook is trying to make the experience on Facebook.com have more uniformity across profiles and pages.   You can preview the new design before you actually upgrade.  Once you upgrade though, you cannot switch back.  As mentioned below, everyone will have four weeks to upgrade their pages.
Login as page
As I mentioned in the January social media newsletter: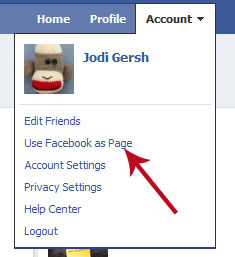 The change that I most hope makes the final design, and I think you will all be pleased about, is the ability to login as a page.  For example, right now if you are a page admin, you are not able to make comments on your page as yourself, only as the page admin.  This leaked new feature lets you decide who you want to post as.  This will be especially useful for people that are administrators of multiple fan pages.
This change is now live (if you upgrade your page) and can be easily accessed via an 'Account' drop down menu on the top tool bar.  See image at right.
I know many of our editors and community managers have asked for a way to engage and comment on fan pages as an individual, not an admin.  Now they can!
No More Tabs and Boxes
Gone are the tabs at the top of the page.  Most of these can be found as menu links under the profile photo.  If you had custom landing tabs, you can still set custom landing pages (and your previous settings should still be in tact).
Any boxes you added to your fan page (left rail) are now gone.  On the left you will now see other pages that are 'liked' and you can display page owners and administrators.
Photostrip
Another addition is the Photostrip, which launched for profile pages late last year.  This area gives a quick thumbnail view of 5 photos.  Many people have come up with creative ways to use this photostrip on their profiles.  I think there is huge potential for this space.
Examples:
Before you upgrade to the new profile, you should make sure you have at least 5 homepage ready photos in a photo album.  The photostrip displays the last 5 photos added, but at anytime you can click an 'x' on any photo you do not want in the strip.
I think this area could be used for displaying photos of staff (broadcast anchors for example), or community photos, promotions, weather updates.  You could possibly have user submitted photo contests to see which photos make it to the photostrip.  I think there are many different ways this could be used for additional engagement on our pages.   Get creative and please share with me what you're doing.
Notification settings
You can change your settings to be notified when someone comments on your fan page.
iFrames
As Facebook announced mid last year, FBML (Facebook Markup Language) will be eliminated soon.  iFrames are now enabled and you can add content within an iFrame to your fan page.
Wall Filters and moderation
There are now additional filters for the content you display on your wall.  In addition, you now have a block list.
From our Facebook rep:
Hi there, just a quick head's up on some exciting news today.
We are excited to introduce upgrades to Facebook Pages that will enable admins to better manage communication, express their presence and increase engagement.
You will have four weeks to transition your Pages to the new format. There is a site-tour for all Admins that will walk you through the new changes. Once you make the decision to upgrade your Page to the new version, there is no way to revert back to the old design.
Below is a brief summary of the key changes to your Page.
Summary of Key Changes:
Chad Graham, Social Media Editor at AZCentral had this to say:
Additional Resources
In addition, here are some neat examples of ways people have used the photostrip:
UPDATE:  It looks as though you still cannot comment as yourself on a page you are an admin of.  You can comment as a different page though.